Presidential Pools takes pride in our outstanding pool services. We take every homeowner's individual needs into consideration when we visit. Whether you need us once a week, every other week or once a month..."We are at your Service!"
Our services include openings and closings, weekly or bi-weekly cleaning services, liner re-sets, putting liner back into coping, filter cleaning and much more.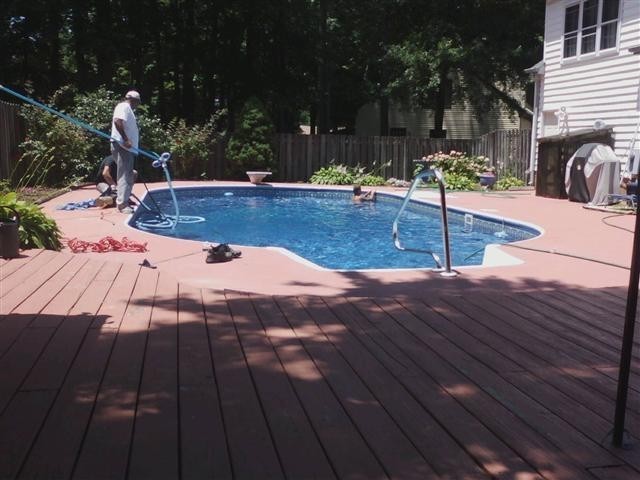 Presidential Pools offers weekly and bi-weekly pool service throughout Hampton Roads. Most customers require bi-weekly service. However, customers using well water may need weekly service due to the heavy iron content in the water. Our maintenance service includes back washing the filter system, vacuuming the pool, cleaning the skimmers, brushing the walls, chlorine treatment. Dial 757-513-3271 to schedule your summer pool service. We have many repeat customers so contact us early because service work is limited to 30 customers per season. Special Event and occasional services are also available.
Has your pool liner popped out of the coping? This is a common problem in the Hampton Roads area. The high ground water especially after hard rains and high tide can cause your liner to float or "burp" popping the liner out of the coping. In the winter months vinyl shrinks and many people open their pools and find this problem.
No fret... Presidential Pools can put the liner back in the coping for you without draining your pool in no time! We are at your service!
Heavy rains and high tides in the Tidewater area can effect your vinyl liner pool. When you have a water bubble come up under the liner it is caused by ground water and may leave you pool liner with wrinkles and water under the liner.It is important to remedy this problem as quickly as possible.

Presidential Pools can reset your liner if it is under 6 years old. Draining the pool will be necessary. If the problem exists only in the shallow end we drain it to the break. We do not guarantee the wrinkles will not come back after another rain. Some properties are in low lying areas and will be subject to a floating liner more than others.
A remedy for ground water issues is a french drain or a buried pump system that drains to the street. You can speak to our owner about these options.
Presidential Pools offers professional pool openings beginning the first day of Spring. We will chemically treat your pool and get it sparkling clean for the season. Or, year-round if you need us! Your pool opening will include removing and folding the cover and putting it in the container provided, removing debris from the pool, vacuuming, cleaning skimmers and skimmer baskets, back washing the filter system, chemical treatment and brushing the pool walls, coping and steps. A basic opening consists of 3 visits and generally takes 7 to 14 days depending on the condition of your pool. Pools that were not covered for the season will cost more to open. If it takes more than 3 visits it is an additional $65 per visit.
Presidential Pools can close your pool in one day! When fall arrives call us with confidence to properly close your pool so your spring opening will be a breeze! Closings include installing the proper return plugs, gizmos for the skimmers, removing the ladders and handrails, treating the water, disconnecting the pump and filter system and installing your existing cover on your pool for the winter. Contact us by calling 757-513-3271 for a free estimate!If you need a new winter pool cover, safety cover or solid safety cover, Presidential Pools can order custom covers for you and install the new hardware. We are fully experienced in drilling pool decks and installing brass anchors for safety covers. Go to our Safety Cover page to see information on our quality covers.