Presidential Pools recommends that you have a professional replace your inground vinyl pool liner. Many swimming pools are free form or custom built and may have unusual bottoms, buddy seats, steps, hot tubs and other features. Only a professional pool guy should measure and order your vinyl liner to assure a perfect fit. Please do not order your own inground pool liner from the Internet. There is a certain way that a liner must be measured in order to guarantee a good fitting liner. If you have a free form pool most manufacturers require an AB measurement for the liner. Presidential Pools installs both inground and above ground pool liners and will be happy to measure your pool and provide you with a free estimate.
GOT UGLY CRACKED EXPANSION JOINTS IN YOUR CONCRETE DECK?
Joint Control Replacement Caps is a great cost- effective solution!

Ask for pricing when you order your new liner!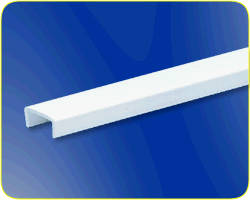 New vinyl liners are installed by Presidential Pools. Pool liner replacement includes measurement of your pool to insure a proper fitting liner, new skimmer plates, new return plates and eyeball fittings, new polaris fitting if needed, new main drain ring and new gaskets. We inspect the walls and bottom for damage and perform any "minor" bottom repairs. Wall foam is for an additional charge if needed, but in most cases, the wall foam is fine. We guarantee that your pool light will not leak. Wiring from house to pool is responsibility of the owner. For any additional light repairs such as replacement or a bulbs there will be an additional charge. New stair strips are not included in our bid. In most cases the stair strips can be reused. If Presidential Pools determines the stair strips needs replacing there will be an additional cost of $150 for the strip kit but no additional charge for the installation. The same policy applies to diving board bolt kits. If we need to saw the diving board bolts to remove the diving board the bolt kit is $67. A new standard light is $375, however LED lights can cost up to $1500, depending on the lighting. Liner Loc for your entire pool is $120. To have the coping painted, we charge $100. Light Bulbs range from $40 to $75. We also offer salt system discounts at the time of a liner installation. Save $300!When you order a new pool liner the manufacturing process generally takes 7 to 10 days and installation of your new liner usually takes 2 to 3 days. (In our area the tide and water levels will help determine the best time for installing your liner) Sunshine can be another factor. The cost of a new pool liner will vary based on the size of your pool, the mil weight of the pool liner you choose and the condition of the pool. Our manufacturers offer both 20 mil and 28 mil liners. Waiting time for custom pool liner production takes longer in peak times of the year. The earlier you order a replacement pool liner the quicker the delivery. Sunny weather over 60 degrees is the best condition for pool liner installation. The cost of the liner will be collected at the time the agreement is made.
Installation Procedure: Presidential Pools may drain your pool and remove the skimmer plates, light, ladders, eyeball fittings and return plates while we are waiting on the pool liner to come in. In most cases, the pool liner will remain in the pool until the day of installation to prevent damage to the pool bottom (unless we have bottom repairs scheduled). Once the pool liner arrives, we will remove the old liner and place it on the curb for special pick up. Containers for other debris must be provided by the homeowner. Next, we check the pool bottom and walls for any damage that needs repair, check the wall foam, clean the pool shell and then install the new pool liner. (New wall foam is only installed if needed) The tide may determine the proper time to cut in the main drain. Once the main drain and step have been cut in we leave the property with shop vacuums running and water running into the pool. We will call you and let you know when to turn the water and shop vacs off. PLEASE DO NOT TURN OFF THE VACUUM AND WATER UNTIL INSTRUCTED TO DO SO THIS CAN CAUSE WRINKLES IN THE LINER AND THERE WILL BE AN EXTRA CHARGE TO RESET THE LINER AGAIN. After the pool has filled to the proper point, we will return and cut in the skimmers, returns and light and re-install the handrails, and ladders. At that point final payment is due and you can finish filling your pool to skimmer level. We give a one year labor warranty. We do not guarantee a wrinkle-free pool, however, we have no problems with wrinkles in most cases. The liner warranty is a manufacturer warranty and covers seam breaks only.
757-513-3271
There are literally hundreds of vinyl pool liners and patterns to choose from. Presidential Pools has samples of liners from several top manufacturers in the country. We will be happy to give you a free estimate and leave you brochures to help you make your decision or you can visit our manufacturer websites and make your decision online.
To view the complete line of patterns available from each manufacturer click on the pool tiles or logo